It's Wednesday, which means it is time for some pinspiration!
I don't have a theme again. I am all over the place on pinterest and it is hard for me to stick to just one topic. ADD much? Well here are a few of my favorites from this week:
LOVE the island in this kitchen. We are about to start redoing my kitchen (starting with some beadboard, yay) and I am dying for an island like this. I would stain mine though instead of painting it black. ONly because I am going for a neutral color theme of whites and browns...
This sink would complete the look I am going for... for sure.
When Paisley gets a little bigger I WILL have a wonderful picture of all three of the kids made and do this. It is so pretty.
Speaking of the kids, I am in love with these letters for their play room. They're printable and I am planning on putting these in some dollar store frames and hanging them on one of the walls in there.
Such a cute sign.
We are finishing the mud room and I am thinking that this is a must.
After making my trash bag holder out of a formula can, I am thinking that this is a MUST for baby girl's room.
Call me immature but I laugh every single time I see this.
Can I get an AMEN??!
....and another AMEN??! hehe
Well, until next week....
Linking Up: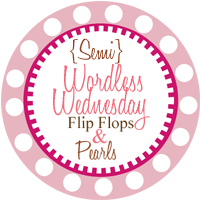 ~Nicole