Well, this week I managed to make some.... progress! I lost three pounds. Doesn't seem like a whole lot but that is a huge accomplishment for one week. My husband and I have been on the same meal plan (I say meal plan because I REFUSE to call it a diet). We have had grilled fish. grilled chicken, salads, fajitas, tons of veggies, and of course fruit. I think apples are my favorite go to snack. Or a banana right after a work out. YUM! It hasn't even been that hard. I mean, yes I wish I had a cookie sometimes, but I go have a yummy energy bite and I am set (I am totally going to do a post on them because they are the best snack EVER, so stay tuned). So awesome. Of course
Cag
has managed to lose 8 pounds this week. Go figure, the man loses more. He also cut out tea and Mt Dew so I am convinced a lot of that was bloat. I was already drinking just water.
We went on a walk with some friends. Cagney was nice enough to fix the front wheel on my jogging stroller and I have a feeling this stroller is going to get a ton of use. I have the baby trend one from Target and I love it. Paisley loves it too because even though she is only four months old, she would much rather be sitting up in this than strapped backwards in her car seat in the other stroller. She loves the outdoors and looking around...
We also went to the ball field. We are very fortunate that we live about five minutes from here. They have a track that goes around the fields and it is so nice for walking. They just repaved it too so I was so excited to try it out. Cagney worked with the boys on their baseball skills...
Her first trip to the ball field wore her out...
This week I am going to make a list of goals. I plan on listing a reward for myself once I meet each goal. I cannot wait to share this next Monday.
I also plan on continuing our "meal plan" just as we have. We do not live close to a Whole Foods at all, but I do have a Dr appointment tomorrow afternoon so I plan on visiting the one that is close to it. I am very excited about that!
I plan to walk every day that the weather allows me to with Paisley. If the weather will not allow me too, there are other methods of exercising. I do have stairs. I also have the Tone it Up website for their awesome
youtube
videos.
Linking Up: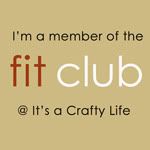 Fitness Friday
@ Fitness, Health, and Happiness
Til next Monday...
~Nicole