Well, this week was okay I guess. I didn't go walking or anything. At all. So I feel like a giant loser. It is very true that you will never ever regret running that mile. On top of that, we had Monster Jam this weekend and of course fell of the food bandwagon. We ate some things that we should not have... and might have drank some things we should not have also....
hehe
. I am down four pounds now, so that is one pound this week. I guess I can be happy with that. Much to my surprise, it's something and not nothing. I did a goal list for myself so maybe this will help to motivate me:
10 pounds
: Water Bottle (this sounds so small, but I want a NICE really good bottle to take with me on walks and runs. Not just one that my husband brought home from his company picnic.)
20 pounds
: Cute workout gear of some sort. Don't want to say pants because I don't plan on stopping at 20 pounds. Maybe some cute sports bras and tops... or a cute jacket or watch...
30 pounds
: Super cute sweats from Victoria's Secret. I love their college line but can't bring myself to spend that much.
40 pounds
: New yoga pants, and probably a new swimsuit.
AHH
, we shall see.
50 pounds
: New running shoes. I like the ones I have now but have my eye on a super cute pair already...
60 pounds
: Zip lining trip with my honey. I have always wanted to do this and so has he. ALSO, new jeans for sure. Maybe some cute dresses... and I have my eye on some precious cowboy boots....
I know this is A LOT to lose but I really want to do this. I NEED to do this. Six more pounds til I can get my water bottle.
WOOT
! :)
Goals this weak are to eat better and get back on track with my food. Grab some of those carrots to munch on instead of something else. I already made a batch of my favorite new snack. You can find the recipe
here
.
I also plan on drinking half my body weight in ounces per DAY. That is a ton of water but I can do it. When I purchased this in Florida this summer, everyone thought I was nuts. Looks like it will come in handy after all. This bad boy holds 100 ounces of water. It's HUGE.
I WILL get my exercise in this week. I don't care if I have to run my stairs every morning and night. I am convinced I need a treadmill so I can have something to do while I watch The Biggest Loser. I feel like such a lump sitting on the sofa while I watch these people puking their guts up with
Dolvett
and Bob.
I am also setting a goal for myself RIGHT NOW that in the next two weeks I will have my water bottle! No doubt. I CAN do this. Ten pounds total, two weeks: WATCH OUT!!
Good luck to you all. What are your goals this week? Do you have a goal list?
Linking Up: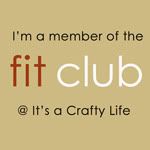 ~Nicole