I finally can spread some good news. I lost two pounds this week. YAY me! My husband and I started the Power 90 workouts and it has been pretty fun working out with him. I was surprised at how fun. We purchased a seat for the baby for the back of his bike so I am hoping there is much more family fitness in our near future.
The kids both start baseball tomorrow night. Which means our lives are about to be turned upside down. Of course, we wouldn't have it any other way. The great thing about the park they play out of is the awesome walking track. They just repaved it too. Paisley and I are gonna tear it up.
We did slack yesterday in the food department. Cagney made some of his wonderful honey BBQ wings and I made some spinach dip. It was the super bowl, give us a break! At least we were watching someone be active while we ate it? Does that count?? HA!
Not very much of an update today. We are super busy this week, I have a ton to get done. Hopefully I will have more next Monday.
I leave you with this question: Have any of you tried zumba? Yeah, yeah I know I am the only one that hasn't probably, but did you see a difference? Class or just a DVD? Thanks! :)
Linking Up: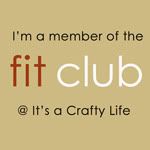 ~Nicole